iBook with transparent display
2005-11-22//13:44
//// Fun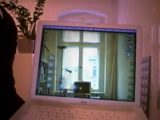 Today I replaced my original iBook display with a transparent one. It's a bit hard to see because of my iSight camera, but I think you get the idea. It's got a light grey shine which makes it easier to see the icons on the desktop.
Watch the movie here
or click on the image (
QuickTime required
).