The table of free voices
2006-09-09//21:16
//// Personal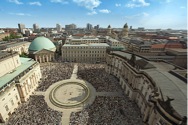 Today 112 internationally renowned thinkers and activists took their place around the biggest table ever constructed and answered 100 of the most pressing questions facing humanity. I went to the
Bebelplatz
square — located along one of Berlin's central avenues,
Unter den Linden
to see the public event. You could hear the questions asked by
Willem Dafoe
and
Hafsat Abiola
, but unfortunately you couldn't hear the answers of the participants as they all replied at the same time. However, they recorded the answers with video cameras individually installed in front of each speaker — imagine a round table with 112 microphones and cameras!
The project which was broadcasted live on the internet as well, was initiated by
dropping knowledge
— a German NGO which acts globally. It's interesting how I heard of it. First, I read a
news at the website of Pearl Jam
who are known for their environmentally consciousness. Then I found out that the German foreign minister Dr. Steinmeier is the patron of the table of free voices. Last Monday I read
an article at macnews.de
— one of my daily RSS feeds — which described that they installed more than 112 Macs for this open source project and finally I found it this morning at
Tagesspiegel Online
. You can watch a
small clip I recorded this afternoon here
.
www.droppingknowledge.org