Free climbing in Saxon Switzerland
2006-06-26//15:59
//// Fun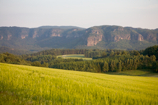 Last weekend, I spent some time in the
Saxon Switzerland
at the
Berghof Lichtenhain
. They needed new pictures for their website, so
Peter
took photos of the hotel and the beautiful mountain landscape. You can find some pictures of the 2-day shooting
here
. We did some free climbing in the
Czech Republic
, too, which was very exhausting in the hot sun but still a lot of fun. By the way,
free climbing
started in the Saxon Switzerland at the beginning of the 20th century and was brought to the USA by
Fritz Wiessner
who emigrated from Germany in the 1930s.
Update 2006-06-29: I've just found a
tiny video clip of Peter
shooting the landscape.