Juliana Hatfield at Bush Hall, London
2006-03-10//23:08
//// Music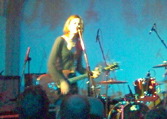 After eight years of being a fan of
Juliana Hatfield
I finally had the chance to see her live! She did a solo show and played a repertoire of her songs (only a few from her current album 'China' ). It was very intense and she's an amazing singer.
Update 2006-03-29:
I met a guy at the Gemma Hayes in-store gig who went to the Juliana Hatfield gig, as well, and
here are his pictures
.