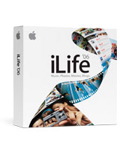 I've just installed the new Apple
iLife '06
!
I ordered it right after Steve Jobs had announced it at the MacWorld Expo – I just had to have it! And it's arrived even earlier than expected!
I've just rushed through the iApps and checked out the new features – I really love it! Here are just a few things that I like:
iPhoto 6
now has a
full screen mode
just like
Aperture
(dark background – no menu bar) and some nice new
image effects
which improve your photos. Don't get me wrong – you can't compare it with the adjustments you have in
Adobe Photoshop
, but, hey, I don't want to import all my snapshots in Photoshop and then re-import them in iPhoto… And in full screen mode Apple has added the "compare" feature of Aperture, which is very nice. With the image adjustment panel and the new features I don't need Aperture anymore.
iDVD 6
has some really nice
new themes
– I love "Road Trip" and "Reflections" which has the look of the Apple TV ads. I'm trying to put some samples here very soon. Do you know the "Magic Movie" button in iMovie? They now have integrated a
"Magic DVD"
button in iDVD which fills all drop zones automatically.
GarageBand 3
: integrated
Podcasting
and iSight recording – all you need to create your own Podcasts and export them!
iMovie HD
: widescreen HD support and themes from iDVD 6.
iWeb
: well, that'll be an extra post on this blog, soon.