SPOTS Installation – City Gaze
2005-11-28//12:50
//// Permalink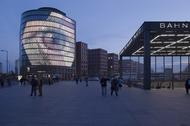 'City Gaze' (Die Stadt hat Augen)
is an exhibition that pursues a unique concept. An office building on Potsdamer Platz is being transformed into a seeing object. From 24 November to 28 February 2006, SPOTS, a light and media installation that has been integrated into the building's facade, will be presenting new works by internationally renowned artists that have been created especially for this location and this medium. The show will launch with a work from Berlin-based artists and architects realities:united – who also have overall responsibility for the development of the light and media facade – in collaboration with the artist John deKron.
A friend of mine –
Steffen Zimmermann
– shot a movie at the opening. You can find
the movie here
(QT required)
.
This installation is just amazing and go see it if you're around Berlin!