Webcuts.07
2007-10-12//11:43
//// Webcuts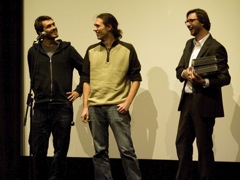 Webcuts.07 — The Internet Film Fest
in Berlin was a cool event this year, again! First we had a panel for our VIP guests with
Karin Wehn
(University of Leipzig),
Marc Schleiss
(winner of Webcuts.06),
Eckhard Jäger
(founder of Webcuts), Tillmann Allmer (
interfilm berlin
) and Jennifer Hoffmann (
HFF Potsdam
). The screening of the nominees and the award show were both fun and continued at the After-Show party. The image above shows me with the winners for Best Animation Matthieu Landour und Edouard Jouet from Paris at the ceremony. We also had a show simultaneously on an island in Second Life with our exclusive movie theatre. So, to get an idea of what you missed, check out
www.webcuts.org
. You can find a video coverage of the evening
here at freshmilk
, an
interview with Eckhard Jäger and me
and more
photos here
.