1 million fans in Berlin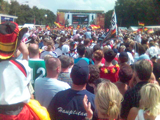 On Sunday I was at Germany's largest fan mile. Approximately 1 million fans were celebrating the German World Cup team in Berlin. It was a very emotional event and the German team wanted to thank the fans for their amazing support — making the World Cup the best of all time.
I must say it was a great feeling to support the German team in last 5 weeks and seeing them on stage at the Brandburg Gate and the whole euphoria I will never forget (small clip
here
).